Jump to:
2015 | 2016 | 2017 | 2018 | 2019 | 2020 | 2021
---
Utica, NY
Much is spent on safety, but accidents by their nature cannot be avoided. We recently contacted the Utica Observer-Dispatch to remind them of a recent Huge Rail Explosion, just down the tracks in Oneida, which they reported on.
Downtown Utica is no stranger to derailments either...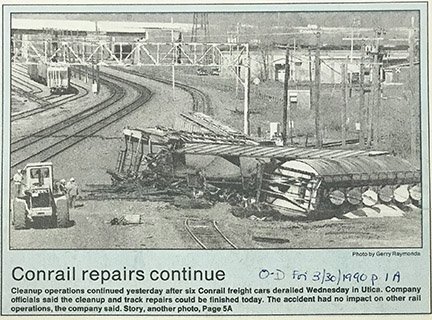 1990 Downtown Utica Train Derailment
Learn more about Downtown Utica's Train Tracks & Facilities.
---
April 28, 1992 - CSX freight train derailment in Utica...
---
April 29, 2017 - Newspaper recounts the incident, UticaOD: This Day In Hisory...
1992, 25 years ago, Derailment: "Five youngsters – ranging in age from 9 to 14 – are charged with causing the derailment of an eastbound Conrail freight train last week. Utica Deputy Police Chief Nicholas Yagey says the five boys piled tires, chairs and a street sign with a cement base on the tracks near the Goldbas Playground. The debris got caught under the front wheels of the front car, flipping a track switch and forcing 36 cars of the track. It came to a stop nears the Bagg's Square Bridge. There were no injuries. The youngsters – who remain with their families – have been charged with second-degree criminal mischief and first degree reckless endangerment. Conrail says the damage will exceed $400,000."
As another precuation, in the same year, another case of vandalization led to a Train Derailment With 74 Injuries.
---
Our Leaders have Warn us of... Should train cars and tankers carrying oil, propane, or toxic chemicals derail in downtown, it's very probable that a 1/2-mile or 1-mile evacuation radius would have to be established. Long tanker trains pass Union Station routinely...
And another 1990 video show a Busy Train Morning in Utica, NY
---
Downtown Utica, NY, July 21, 2015 - Not on the mainline, but Union Station struck by rail car...
Longer video here, Union Station Video
---
A rail diaster incinerates the downtown of Lac-Megantic, on July 6, 2013.
---
Downtown Utica, NY, 1990 - Here's a newspaper story from March 30, 1990 showing a derailed Conrail freight train...
Better Resolution: Downtown Utica Conrail Derailment, March 1990
---
Return to Upstate Train Derailment map.
---
You can help, please join us on Facebook #NoHospitalDowntown. Also consider adding your voice to Hundreds of People Saying, "No Hospital Downtown". Get to know BUD, that's the future of the Columbia Lafayette Neighborhood!
---
---